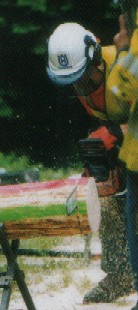 Two Day Course
Cost: £245

2 days of integrated training and assessment leading to a LANTRA ITA certificate. The 2 day LANTRA ITA certificate is a neccessary requirement for chainsaw carving courses. For group bookings I will travel anywhere in the UK.
Learning objectives


Identify, inspect and comment on key parts of a chainsaw
Prepare the chainsaw for work safely without risk to operator, other people or the environment
Carry out daily and routine maintenance on the chainsaw
Operate the chainsaw safely, effectively and comfortably in accordance with the practical risk assessment
Operate the chainsaw safely without risk to operator, other people or the environment
State the identified knowledge that underpins understanding of operating a chainsaw
Identify the risk assessment and emergency procedures on a work site
LANTRA Course Details (.pdf)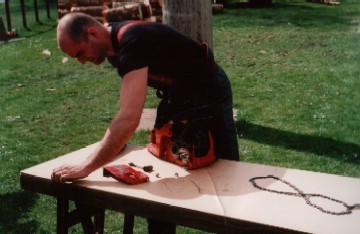 COURSE AVAILABILITY
For more info contact Phil or Karen on:
Phone: 01490 460611
Mobile: 0789 149 4341
Email: phil@chainsawtraining.com
WE ALSO RUN CUSTOMISED COURSES ON A ONE TO ONE BASIS - please ring for details! Bookings are currently being taken for:
*Due to current social distancing guidelines our courses are running slightly differently to usual. Please ring or email for dates and availability
May/June 2022
Chainsaw maintenance and cross cutting.
Training and integrated assessment £245.
Optional professional assessment available £165.
Places available


May/June 2022
Maintenance, cross cutting and felling trees up to 380mm diam.
Training £445
Assessment £295
Places available


July 2022
FELLING AND PROCESSING TREES OVER 380mm diam
Training £395
Assessment £165
Places available


May/June 2022
Dealing with individual and multiple windblown trees course cost £395
Assessment cost £165
Places available


SITE UPDATED 11/5/2022
I will travel anywhere in the UK to deliver courses for 4 candidates. Travel expenses are 50p per mile.
Full equipment hire is available (everything from PPE to chainsaws and sharpening tools).
For more information please call Phil or Karen on 01490 460611 or 07891494341 or email phil@chainsawtraining.com