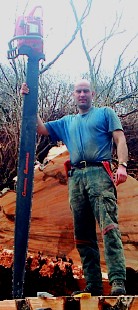 Welcome to Phil's Chainsaw Training
Phone: 01490 460611
Mobile: 0789 149 4341
Email: phil@chainsawtraining.com
Training for professional, domestic and occasional chainsaw users.
Train with the Best!!!
Phil Dunford receiving first prize for the 2005 Welsh Treefelling Championship.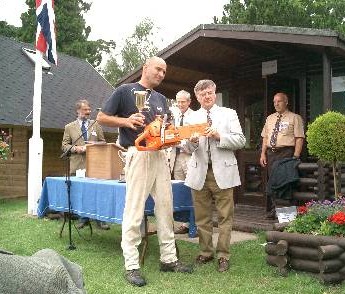 Phil instructs on all courses, offering high quality chainsaw training, with courses tailored to fit individual needs. We are a small business and pride ourselves in a offering a personal and friendly service. If you have any questions about chainsaw training, don't hesitate to ring!
Courses are designed for the complete novice or for people who have had previous experience of using chainsaws
Phil has twice won the British Chainsaw Championship and seven times the Welsh Treefelling Championship - so IF YOU WANT THE BEST, THEN TRAIN WITH THE BEST!
There are three different types of courses available:
* COURSES FOR OCCASIONAL USERS (LANTRA ITA courses)
These two courses combine training and assessment, and candidates who achieve an acceptable standard will be awarded a Lantra Awards Certificate of Training which is valid for 5 years. More Details ...
* COURSES FOR PROFESSIONAL USERS (LANTRA course leading to QCF level 2 and level 3 assessment - including units which used to be called CS30/31)
This route is intended for someone who anticipates seeking contractual work in professional forestry, amenity or arboricultural activities which is likely, immediately or at some future date, to involve felling trees over 200mm (8") in diameter, and/or aerial tree work. More Details ...
* REFRESHER COURSES
These courses are available for candidates who already hold a recognised certificate, but who wish to refresh their skills. Some companies require their employees to update their skills after a length of time. HSE recommend a refresher course every 3 years for occasional users and 5 years for regular users. More Details ...
Our local chainsaw supplier - competitive prices and most parts held in stock:
Interesting Links:

COURSE AVAILABILITY
For more info contact Phil or Karen on:
Phone: 01490 460611
Mobile: 0789 149 4341
Email: phil@chainsawtraining.com
WE ALSO RUN CUSTOMISED COURSES ON A ONE TO ONE BASIS - please ring for details! Bookings are currently being taken for:
SITE UPDATED 30-11-2023
I will travel anywhere in the UK to deliver courses for 4 candidates. Travel expenses are 70p per mile.
Full equipment hire is available (everything from PPE to chainsaws and sharpening tools).
For more information please call Phil or Karen on 01490 460611 or 07891494341 or email phil@chainsawtraining.com