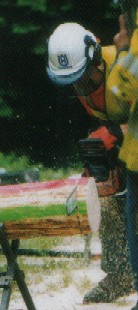 COURSES FOR OCCASIONAL USERS (LANTRA ITA courses)
These two courses combine training and assessment, and candidates who achieve an acceptable standard will be awarded a Lantra Awards Certificate of Training which is valid for 5 years. For chainsaws, the ITA route is suitable for someone who intends to use the chainsaw for business, domestic or leisure activities, but does not intend to work in forestry or arboricultural activities or work on Forestry Commission land, or fell trees over 200mm in diameter. (HSE)
The cost of all courses includes LANTRA registration and course workbooks. There is no VAT.
Chainsaw Maintenance and Cross Cutting (2 days) CLMC10X
An invaluable introduction to chainsaws for the first-time user.
Day 1 covers the safe operation and maintenance of a chainsaw and day 2 covers safely cross-cutting pre-felled timber. More Info ...
COST: £195 per person
LANTRA Course Details (.pdf)

Chainsaw Maintenance, Cross Cutting and Felling Trees up to 200mm diameter (4 days)CLMC41X
The first 2 days cover maintenance and cross-cutting, as above. The final 2 days are spent felling small trees in a woodland setting.
COST: £395 per person
LANTRA Course Details (.pdf)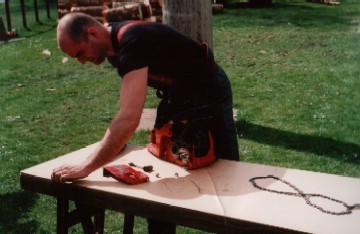 COURSE AVAILABILITY
For more info contact Phil or Karen on:
Phone: 01490 460 611
Mobile: 0789 149 4341
Email: phil@chainsawtraining.com
WE ALSO RUN CUSTOMISED COURSES ON A ONE TO ONE BASIS - please ring for details! Bookings are currently being taken for:
SITE UPDATED 18-9-19
I will travel anywhere in the UK to deliver courses for 4 candidates. Travel expenses are 50p per mile.
Full equipment hire is available (everything from PPE to chainsaws and sharpening tools).
For more information please call Phil or Karen on 01490 460 611 or email phil@chainsawtraining.com